Rotz Pharmacy Cares About You!
Are you….
… Diabetic? Rotz Pharmacy can take care of all of your diabetic care needs! We offer. . .
Diabetic test strips and monitors as well as training on how to use your monitor.
Diabetic Shoes with custom fit insoles and socks.
We bill Medicare and you may pay nothing for shoes & insoles.
Sugar-free medications and cough drops.
Other over the counter remedies to help treat issues that arise due to diabetes.
… Having diftculty organizing all of your medications?
… Forgetting to take your medicine on time every time?
Ask us about our "Medicine-On-Time" program.
This easy to use packaging of your prescriptions will help reduce your worry in managing
multiple medications throughout the day.
No more thoughts of, "Did I take my medicine today???"
… Over 65 years old or turning 65 soon?
We will help you choose and enroll in a Medicare Part D Plan.
Not all plans are created equal… In fact. Plans are tailored to the prescriptions you take.
Plans should be reviewed yearly during the open enrollment period.
Rotz Pharmacy will perform a comprehensive review of your current medications
and recommend the most cost effective Part D Plan for you…. For free!
Adult Vaccination Program
We give ALL VACCINES including: Zostavax (Shingles), Flu. Pneumonia, Tetanus/Pertussis, etc.
No Appointment *** No Wait *** No Office Visit Charge *** We Bill Your Insurance
Our trained and Certified staff can counsel you privately (and for free) about ALL Vaccinations.
We have been providing immunizations to the Winchester/Frederick County community since 1997.
Rotz Pharmacy Also Offers:
Easy Prescription Transfers… Just bring in a competitors prescription bottles or the prescription numbers
Full line of Over-the-Counter Products and Vitamins
Nebulizers and Inhalation Therapy
Individual/Family In-House Charge Accounts
Personal and Private Rx Counseling
DME Equipment – Walkers, Wheelchairs, Canes, etc
Prescription Price Matching
Glucose and Blood Pressure Screening
Much. Much More!
Why go to a 'chain'pharmacy and wait when you can use Winchester's ONLY independent pharmacy and receive all this?
PLUS experience. . .
"Old Fashioned Care and Service…
The Way Pharmacy Should Be"
Adult Immunization
Rotz pharmacy offers services you may have thought were only
available at your doctor's office. Like adult immunizations.

TdaP (Tetanus, Diptheria, acellular Pertussis)

No Prescription – No Appointment Needed

Flu – $25 • Pneumonia – $72.35 • Medicare-B No Charge

Flu Clinic Hours Begin Sept. 26th

Monday – Friday
10a.m.-12 Noon & 2p.m.-5p.m.

Don't forget to ask about your Pneumonia
and Shingles (Zostavax) shots
Private Counseling Services
Rotz pharmacists have known their patients for years. We understand your medical history and will take the time to help you make smart and safe choices with your medications. Having a comfortable relationship with your pharmacist will make it easier for you to come to them with important questions that may be difficult for you to talk about with a stranger.
Old Fashioned Care and Service…
The Way Pharmacy Should Be.
Diabetic & Inhalation Supplies
Do you use a mail order company, like Liberty, for your diabetic and inhalation medications? Rotz Pharmacy can provide these medications for you and bill Medicare, at little or no cost to you. But most of all we are there to show you how to use your glucose meter or nebulizer.
Diabetic Supplies (all billed to insurance or Medicare)
Fitted Diabetic shoes and 3 pairs of insoles per year
Inhalation Supplies (all billed to insurance or Medicare)
Why use a mail order provider like Liberty if you can get your breathing medication locally and talk to your pharmacist about it? We can fill your inhalation medications, counsel you on the use of your nebulizer, and bill Medicare.
Rotz Pharmacy also offers Convalescent Supplies & Fitted Support Hosiery.
Compliance Packaging
Rotz Pharmacy has been providing compliance packaging to patients for 20 years. Medicine-On-Time (bubble-packing) ensures that you take the right medicine at the right time.
Medicine-On-Time is an innovative personal prescription system that takes the hassle out of taking medicine. No more juggling pill bottles. No more guesswork about dosages and times. With Medicine-On-Time, you may never miss a dose of medicine again.
To learn more about our Compliance Packaging visit
medicine-on-time.com
Same Price Prescriptions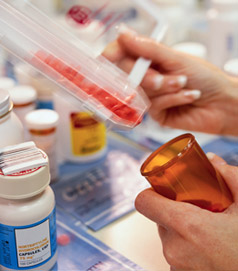 Rotz Pharmacy is concerned about the high cost of prescription drugs and your pocket book. Do you know how your prescription drug card works and how your prescription is priced? Did you know that your insurance company determines your copay? Did you know that you'll pay the same copay no matter which pharmacy you go to? Because your price is the same at all pharmacies, why not choose Rotz? Why not choose the pharmacy that will give your the best service available?
Prescriptions in 10 Minutes or Less
Compounding
Rotz Pharmacy is willing to compound your medication if it is not available as a standard prescription product. We will work with your physician to come up with a way to meet your medication needs. We will attempt to bill your prescription plan, as these prescriptions can often be more expensive.
We can compound the following forms of medications for adults and children:
• Topical creams and ointments
• Oral solutions and suspensions
Do you have a family pet? Have you ever needed a medication for them and did not know where to get it? We may be able to compound the prescription for you! Ask your veterinarian to call us to find out if we can make the medication for you.

• Flavoring
Sometimes liquid medication can taste really bad. It can be difficult to get a small child or animal to take these medications. We are here to help! I am sure your daughter would prefer "bubblegum" to a "medicine taste"…and that your cat would welcome the "taste of tuna"!
Rotz Pharmacy can flavor most liquid medications for a small fee of $2.99 per prescription. Ask us the next time you need a prescription for your child or pet.

Old Fashioned Care and Service… The Way Pharmacy Should Be.